Our passports have a simple aim – to encourage more people to explore more of Scotland's islands for more of the year, whilst promoting sustainable travel.
Why? Because, as islanders ourselves, we know how much our islands have to offer. But we also know that a little bit of local knowledge can go a long way to helping you appreciate our islands in all their glory, whatever your interests.
So, despite the global pandemic, we have been working with communities from across Scotland's six island areas to build a library of over 700 reasons to visit our islands – from mid-winter fire festivals to flower-strewn summer Machir and much, much more besides.
And, to help you choose which islands to explore, we have created an app and series of travelogues to help you navigate your way.
If you would like to be amongst the first to know when the passport is being launched, register your interest below and we'll be in touch
---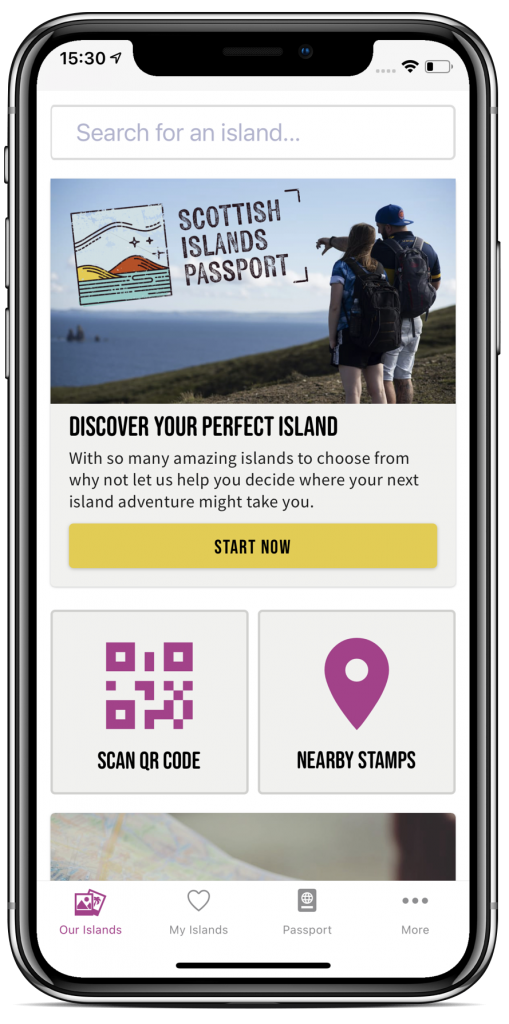 Our app
Our app allows you to choose areas that interest you from categories such as history and heritage; food and drink; outdoor activities; nature; and arts and music, and then uses these to recommend islands to visits and activities you might enjoy there.
Once you have chosen your next island destination it provides you with practical advice and links to local information, as well as letting you collect passport 'stamps' – designed by local artists' for each island you visit.
Although we were disappointed that we were unable to launch the app across the whole of Scotland in 2020, we are incredibly grateful to the good folk of Shetland who helped us test the system during our pilot in the autumn of 2020. We got fantastic feedback and some great suggestions of how we can develop it to make it even better in time for launching across all 72 of our islands when the time is right.
---
Our travelogues
We have also used our amazing library to develop a series of travelogues based on specific themes to provide you inspiration for future island visits. Designed to be used over several trips, each travelogue is designed so you can follow a thread through our island landscapes to uncover the rich tapestry of island life.
And, just like our app, the travelogues are designed to allow you to collect passport stamps – designed by local artist – as you go, using brass rubbings in each island community you visit. With space to make notes on your adventures and experiences, we hope your travelogue will be a keepsake to remind you of your travels and allow you to escape to the islands no matter where you are.
We're excited to share our travelogues with you to encourage you to explore our islands when we return to calmer waters.